What is the Palais Community Fund?
The Palais Theatre Community Fund provides grants of up to $5,000 to eligible charities, not-for-profit organisations and other community groups that support creative and recreational activities, infrastructure purchases and residents within the community of City of Port Phillip.
These activities may include:
Professional skills development, including mentoring and residencies
Creation of new artistic works
Practice based research
Creative development
Collaborations
Productions
Exhibitions and installations
History research or history tours
Activities to develop the arts sector
Marketing development
Activities that creatively engage communities
Recreation activity development
Purchase of equipment or infrastructure that supports eligible activities.
The fund will provide grants of up to $5,000 to local registered charities, communities and not-for-profit organisations based within the City of Port Phillip, including projects for creative arts, infrastructure, equipment, and community activities. 
The grant enables organisations to support and celebrate local activities and people who work behind the scenes to keep Melbourne's renowned vibrant communities alive. From live performances, community engagement and sporting clubs. 
The fund is an integral part of Live Nation Australia Venues' 30-year lease of the iconic Palais Theatre in St Kilda and has been set up in partnership with the City of Port Phillip to provide long-term benefits to residents of St Kilda and the City of Port Phillip community. Funding for the grant is subsidised via a 50-cent donation from LNAV for every ticket sold for an event at the Palais Theatre and is set to generate approximately $100,000 to $120,000 per year into the City of Port Phillip community. 
Since the fund was established in 2017, the fund has distributed over $353,000 in donations, supporting the local St Kilda and City of Port Phillip art and culture community. 
Application Details and FAQ
Application Details 
Applications will include the following items:

1. You must meet all of the criteria to be eligible for funding.
2. Provide contact details for your organisation.
3. Describe your organisation's purpose/mission.
4. Project Title.
5. A brief overview of the project.
6. What will the funding be used for.
7. How much funding are you requesting?
8. What is the total estimated cost of the project? What % of the total project is this funding?
9. Have you secured additional funding for this project?
10. If your project is successful, please advise how you will acknowledge the support of Live Nation (Palais
Theatre - A Live Nation Managed Venue).
11. If your application is successful, a short acquittal report and evidence of completion must be provided
within one month of the agreed completion date.
12. Upload proof of your organisation being a not-for-profit and registered with the ACNC.
13. Is your organisation endorsed as a Deductible Gift Recipient (DGR)?
Please note: DGR status is not an eligibility requirement. Organisations who do not have DRG status
are still eligible for funding.
14. Will this grant be auspiced?
15. Upload your most recent audited/certified financial statements.
16. By submitting an application you are agreeing that it is being submitted under the signature of the
authorised person (CEO/ Director/ President).
− Once you submit your application you will not be able to access a copy of it through this system.
Ensure you have saved your answers to your own document.
− Also note that you will not receive a confirmation email once your application has been
submitted.

Some notes from past rounds that may assist your application are:

− Ensure all survey questions are completed
− Clearly describe the project the funding will support
− Define who will benefit from your project
− Articulate how the funds will be used to support your project
− If a co-funded project, explain how any shortfall will be accounted for
− Consider submitting, smaller more tangible projects rather than funding as part of larger
Other Important Information

− Applications will only be accepted via Survey Monkey.
− If you require assistance, please contact:
communitysupport@palaistheatre.com.au
The use of the Live Nation brand, name and image in association with the project may only be used with express the permission from Live Nation, operator of the Palais Theatre.
Meet Our Round 8 Recipients!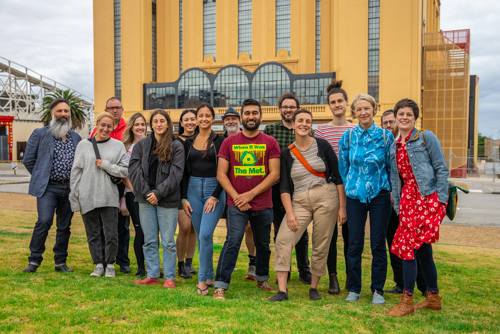 The below applications were successful and will help contribute to different projects:
Elwood LSC's Nippers program teaches children aged 5-13 vital water safety and surf skills, this grant has helped fund new foam Nippers boards that are needed to support the program's growth, with more than 300 participants enrolled for the upcoming season.
South Port Community Housing Group
The funding will support the project supporting people living in South Port Community housing to attend activities and events that are often not accessible due to prohibitive cost.  This project is about giving local people on very low incomes the opportunity to participate in a wide range of community activities and events from which they are currently excluded.
Rawcus Theatre Company Inc 
The grant will support the project "And there was dancing" whch brings together three diverse Rawcus performers with renowned projection artist Yandell Walton and cellist Campbell Banks to present a public art installation and performance that explores the relationship between the seen and the unseen, the everyday and the fantastic, currently proposing to be at Theatre Works and the Victorian Pride Centre.
Yalukit Willam Nature Association
The transformation of the old Elsternwick Golf Course into a wetland nature reserve (to be known as the Yalukit Willam Nature Reserve) is a 10 year project. Currently 3 years into the project with 7 years remaining.  They want to share the learnings of this regenerative project with the broader community to encourage further engagement and support. The grant will help achieve this by paying for support in producing the newsletters and video content and the cost of mailchimp. 
St Kilda Bike Kitchen Inc.
St Kilda Bike Kitchen Inc. are an all-volunteer-run, non-profit that teaches folks to repair and maintain their own bicycles at open public workshops currently run at the Peanut Farm Farmers' Market and the Port Phillip EcoCente. The grant funding will be purchasing two bike trailers and other bike repair equipment to support this ongoing initative.
Australian National Memorial Theatre Limited – The National Theatre
The funding will replace some dance studio mirrors that have become cracked over the years. Mirrors are a crucial element of performance arts training; they enable teachers and students to critique and improve their positioning and performance.
St Kilda Police & Citizens Youth Club Inc.
St Kilda PCYC provides non-contact boxing and strength exercise classes for people who have been diagnosed with Parkinson's Disease which provides them with a sense of control and empowerment and the grant funding will cover the cost of the trainers and classes.
The funding will be going towards Theatre Works Emerging Artist Program which is dedicated to emerging artists, giving them the opportunities to engage in their artistic process and extend their professional networks.  Each year, the program attaches artists from various disciplines to a Theatre Works production in line with their field of enquiry to give them invaluable, direct experience with practising established theatre-makers.
3D bas clay-relief work, an artistic technique involving lightly carving a design into a surface, dates back over 20,000 years.  This genre and unique craft is not currently taught or practiced anywhere in Australia but they hope to bring it to City of Port Phillip through the grant.   Iranian artist, Leila Ashtiani will train/mentor 10 local artists (half from CALD backgrounds (cultural & linguistically diverse)) in this unique art providing insight into the technique and cultural aspect of clay relief making.
BalletLab Association Inc
The grant will be assisting with BalletLab's Midsumma program in 2023, as they continue a 7-year commitment to present cutting edge performance work for LGBTIQ+ audiences in the heart of the City of Port Phillip (CoPP) as part of this iconic community festival.  For the new Biennial Dance Festival, they will premiere 5 original performances and experiences for diverse audiences, cementing the organisation as the home of dance in CoPP.
The grant will support A week long pilot art-making program for children aged Gr2-Gr5 living in the City of Port Phillip. The participants will be given the cultural and creative tools required to develop a creative practice and deliver an exhibition outcome. The program is a facilitated 'role play' in being a living Artist/Curator/Arts-Worker. Participants will make lots of Art, then choose where it goes in the gallery, hang it, write about it, and host an opening (for families and friends).
Funding has supported the event in December 2022 to enhance the profile of the City of Port Phillip as an outstanding, vibrant arts environment through the artistic display of the Menorahs (Candelabra with eight branches 6 feet tall) for all to see. The nature of the events is to gather a large group of diverse religions and communities together, showcasing messages of unity, tolerance and harmony.
The grant funding will support FoodFilled, which has grown and continues to grow at an incredibly quick pace facilitating retailers who donate food to charities who feed those in need. They have an unprecedented number of retailers that want to donate food but even more so charities that are requesting the food. However, given they are a volunteer centric organisation,they need more volunteers to be able to meet that demand. As such, they need to increase the brand awareness of the organisation so they can get an influx of volunteers. Brand awareness is essential so to do this, the money will help cover a dedicated person to invest time into material creation and sharing particularly through our current media channels.
All Palais Theatre Community Fund Recipients
All past recipients of the Palais Theatre Community Fund:
Artists for Kids Culture
Arts Access Victoria
Australian National Memorial Theatre
Australian National Memorial Theatre Limited – The National Theatre
BalletLab Association Inc
BalletLab Association Inc
Elwood & St KIlda Neighbour Learning Centre Inc.
Elwood Cricket Club
Elwood Life Saving Club
Elwood Toy Library
Finucane & Smith (Auspicious Arts Projects Inc)
FoodFilled Incorporated
Gasworks Arts Park
HousingFirst Ltd.
Lentil as Anything LTD
Linden New Art
Linden New Art Inc
National Theatre
Poet's Garden
Port Melbourne Neighbourhood Centre (City of Voices Inclusive Theatre Group)
Port Melbourne Primary School 
Port Phillip Community Group
Port Phillip EcoCentre Inc
Rawcus Theatre Company Inc
Rawcus Theatre Company Inc 
Red Stitch Actors Theatre
South Port Community Housing Group
SouthPort Community Centre - City of Voices Inclusive Theatre Group
Space2b Social Design
Space2b Social Design
St Kilda Bike Kitchen Inc.
St Kilda Mums
St Kilda Police & Citizens Youth Club Inc.
St Kilda Primary School
St Kilda Scout Group
St. Kilda Community Housing
Star Health Group Limited
The Torch Project
Theatre Works
Theatre Works
Theatrical Incorporated
Uniting (Victoria & Tasmania) Ltd
We Support You LTD
Yalukit Willam Nature Association
Palais Theatre Community Reservation
Community Purpose Reservations at the Palais Theatre is a City of Port Phillip initiative in partnership with Live Nation Australia Venues. This initiative makes the hire of the Palais Theatre more accessible to groups that may not otherwise be able to use the venue due to hire costs.
Up to six community purpose reservations can be granted per year. Successful applicants for a community booking will have venue hire costs reduced to $1, enabling a range of users to experience this extraordinary venue. Please keep in mind event costs (ushers, security, cleaning, rigging, electricity etc) still apply. 
---
The application process is through an online application form with City of Port Phillip.
If you require more information on venue hire, dates and costs while making your decision to apply, please send your enquiry to bookings@palaistheatre.com.au